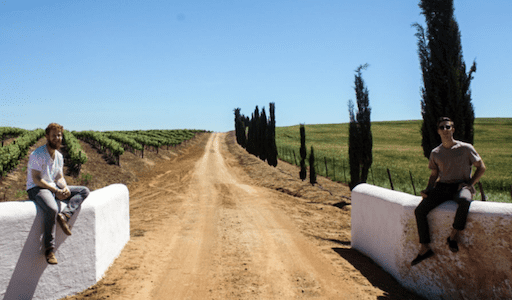 The idea for Lubanzi as we know it today, was birthed when co-founders Charlie Brain and Walker Brown were backpacking along South Africa's Wild Coast in 2014. 'Lubanzi' is the name given to the wild dogs that roam the area, including the one which chose to match the boys stride for stride on their six-day, 100-mile journey, before leaving them on the final night of their trek. The experience and country left an ineffable mark on the pair who, when they left, vowed to return. In 2016 they did just that, and set about creating:
a young, innovative, forward-thinking and socially responsible wine company built on the concepts of collaboration & exploration, with a 'locally run, globally minded' mantra.
They believed that producing top-notch, ethically sourced and supplied wines would be the best outlet for their aspirations, despite having no formal background in winemaking. On their return to the country, they set about striking up relationships with like-minded individuals who would help realise these goals. It was not long before talented winemaker Trizanne Barnard joined the team, quickly followed by the influence and guidance of Bruce Jack, veteran of the Cape winemaking scene.
Their commendable values can be seen in their approach to the project. Lubanzi are Fair Trade, practice sustainable farming, and are carbon neutral. Additionally, they are a member of 'One Percent for the Planet', a Certified B Corporation, and donate 50% of their annual net profits to the Pebbles Project, a non-profit organisation working with low-income families who live and work on South Africa's wine farms. As co-founder Walker aptly put it, "50% of all profits go back into the hands that made it".
In the relatively short time since inception, Lubanzi have already begun making waves in the industry with Jancis Robinson, MW, recently scoring their latest bottlings an impressive 16, while Fiona Beckett from the Guardian describes "two of South Africa's most dynamic winemakers" as "terrific". They have created bright, energetic wines of notable quality while maintaining impeccable social and environmental credentials, "making fairly-produced, genuine stuff with some real personality."
Devotion to quality and to sustainability has seen them explore various packaging options. The bottles used for the still wines are intentionally lightweight, have 'Treefree' labels and twist-off, reusable corks. While their use of cans may have some traditionalists reaching for their spittoons, cans are 100% recyclable and have a higher recycling percentage compared with glass here in the UK.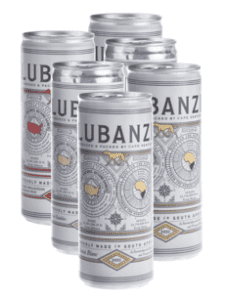 They are air-tight and opaque, meaning the wine is without the damaging influence of light or oxygen. Moreover, aluminium cans are easy to carry and lighter to transport, reducing the company's carbon footprint. The smaller serve is also a perfect accompaniment to lunches or dinners where a 75cl bottle may be too much, or would go to waste.
This commitment to ethics and attention to detail is always visible when working with the guys. Their remarkable story combined with truly excellent wines is indeed a solid indication of the legacy to come.