It is with small steps that great people effect great change, and this is exactly what Ntsiki Biyela embodies within the South African wine industry. In 1999 Ntsiki won a scholarship to Stellenbosch University, graduating in 2003. After vintages in Tuscany and Bordeaux, she began what would become a 13 year stint at Stelenbosch's Stellekaya as winemaker and ambassador. In 2016 she established her own brand, Aslina Wines in Elgin, paying homage to her greatest guide and influence – her grandmother. With diligence, determination and skill Ntsiki has created refined and elegant wines with an inspirational story.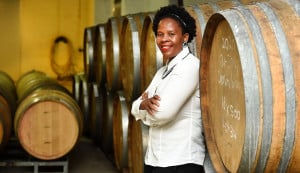 The Sauvignon Blanc has great poise and fine balance between warm tropical fruits and cooler climate tarter citrus fruits; ripe, yet fresh. The Chardonnay is textured and meticulously put together with concentrated green and stone fruits and careful use of classy new oak. As for the Cabernet Sauvignon, it is full bodied and ripe with dark fruits, sour cherries and dense, refined tannins showing remarkable ageing potential.
Umsasane, though, is the pièce de resistance. The nickname of Ntsiki's grandmother, it is a blend of Cabernet Sauvignon, Cabernet Franc and Petit Verdot which, translated, means the umbrella tree (Acacia tortilis) that shades and protects. The 2019 wine is bold and rich, with bright crunchy berries and soft red and black plums. At this point it is dense and compact, displaying warming spice notes and great length, as well as subtlety. In other words, it is generous now, but has the potential to age for another 10 years comfortably.
Ntsiki is on the board of the Pinotage Youth Development Academy (PYDA), which prepares unemployed 18 to 25-year-olds for careers in wine and tourism and this has helped place nearly 300 Academy graduates into the workplace.
Whilst there is clearly much to be done for true equality in the industry Ntsiki recognises the familial nature of many winemakers whose advice and guidance she has sought throughout the years. It is our hope that this sense of camaraderie continues to permeate the word of wine, and indeed society as a whole.